Home Language Books for Refugee Education Centre
In June 2020 Waikato University's Nicola Daly undertook research on the impact of providing refugee children new to New Zealand with books in their home language – see information below. She interviewed five volunteer teachers who reported on how they had been using the home language books donated by Storylines NZ IBBY and how the children and their families had responded to them.
At the time of the interviews the books had been in the school for about four intakes of six weeks, and teachers were exploring a range of ways of using the books. Some teachers were making the books available for independent reading; some were asking older students, parents and interpreters to read to younger students.
The teachers reported the delight of many students and their parents in seeing books in their home language, and the deeper engagement with these books as compared with English language books in the classroom. One teacher shared how a Spanish speaking student read the home language books at every opportunity and how this seemed to support her English language writing. Teachers also reported on how the parents and adults responded to the books and how there was a range of confidence in reading aloud, with some parents taking a really active role in learning skills for reading aloud.
Teachers commented on how the presence of these Home Language books in their classrooms supported their existing values related to Home Language use, reading to children, and ensuring all children have a voice.
After Nicola and Storylines Trustee and Management Committee member Dr Libby Limbrick had presented the results of the research, they led discussion  with the teachers of ways of making the books available to children outside of school hours, and the possibility of children being able to leave the resettlement programme with books in their own language to take into their new homes.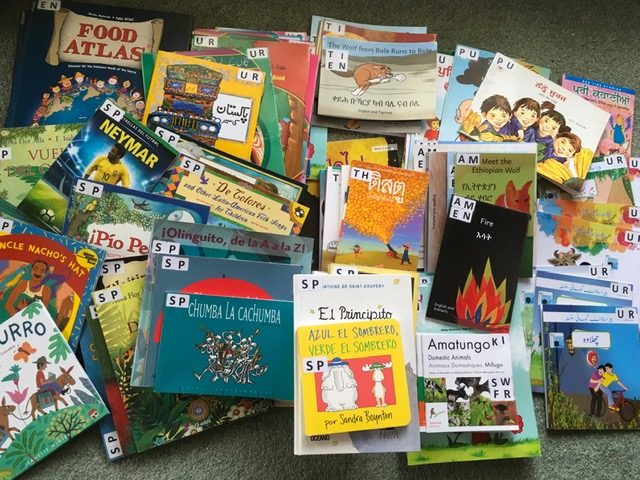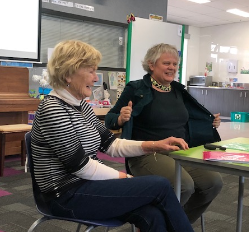 IBBY New Zealand organises book gift for young refugees
A collection of books in their home languages was presented by IBBY New Zealand/ Storylines Children's Literature Charitable Trust of New Zealand to the AUT Refugee Education Centre in late November 2018. The books, in a wide range of languages – including Farsi, Arabic, Tamil, Punjabi, Burmese, Karen, Chin, and Spanish – with images of familiar contexts, will support the refugee children's emotional needs and adjustment to a new home after many years of trauma and homelessness.
The project to supply the books was developed after Storylines hosted the 2016 IBBY International Congress, and was made possible through a US$5,000 (NZ$6,633) grant to IBBY NZ (a sub group of Storylines) from the Yamada Foundation administered by the International Board on Books (IBBY).
The project has also been supported by generous donations from Iran, Afghanistan, Palestine, and France, all National Sections of IBBY, and discounted prices from book distributors in Myanmar and Singapore.
"It was heart warming to see how engaged the children were as the book gift was explained," commented Storylines chair, Dr Libby Limbrick, "and how they loved having readers share the books with them in their own languages in small groups after the presentation.
"Despite there being more than 100 books in this initial gift, we have not been able to supply books in all the languages used by refugee children and their families. We will continue to work to source books in other languages and to ensure there are books at all levels for refugee students. There is very good evidence that being able to retain their own language and share books and memories of their homeland greatly help their resettlement."
For further information about this project, please contact Dr Libby Limbrick, Chair of Storylines Children's Literature Charitable Trust of New Zealand, l.limbrick@auckland.ac.nz.