In 2022, a remarkable achievement marked my literary journey: winning The Storylines Te Kahurangi Kāterina Te Heikōkō Mataira Award for my original manuscript written in te reo Māori called, Kua Whetūrangitia Tōku Koro. This accolade was a significant affirmation, instilling me with confidence and assurance in my te reo Māori writing ability.
The subsequent publication of my manuscript by Huia Publishers was indeed a fulfilling experience. Attending the Storylines Margaret Mahy and National Awards Day, amid some of the finest New Zealand writers, was truly inspirational and reinvigorating.
Winning this award brought forth a plethora of exciting opportunities. I had the pleasure of attending the Auckland Writers Festival this year, where I had the delightful experience of interacting with readers and signing copies of my books. The enthusiasm of readers for my work was heartening and served as a poignant reminder of my purpose as a writer.
Adding to the excitement, I received an informal invitation to a writers festival in Australia in 2024. This promising prospect certainly broadens my horizons and presents a chance for further growth and learning.
In essence, the award served as more than an honour. It bolstered my confidence, endorsed my writing in te reo Māori, and served as a catalyst for future endeavours. It is a reminder that stories transcend boundaries, and every language contributes to the rich diversity of literature in Aotearoa.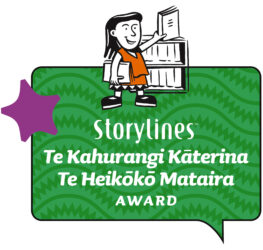 Brianne Te Paa
Winner of the 2022, Storylines Te Kahurangi Kāterina Te Heikōkō Mataira Award